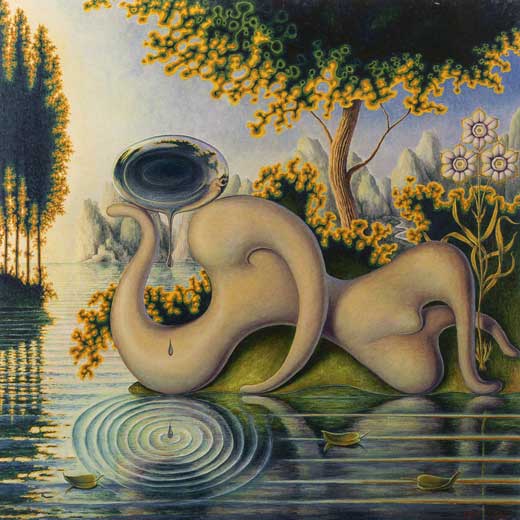 Las lágrimas de Narciso (2006), de Guillermo Pérez Villalta.
Surely, you've felt it. How could you not?
Tides are already high in this full Moon week, then add a grand trine in the zodiac's water signs featuring:
love goddess Venus, out of bounds in Cancer, who wants it all:  romance, family, devotion, protection, kids, the whole ball of wax;

preserver of justice, Jupiter, retrograde in Scorpio, who's NOT above using underhanded tactics to maintain his power and position in the realm; and

sea god Neptune, in mysterious Pisces, ruling the depths of the unconscious, churning up the good, the bad, and the ugly in our collective experience.
Each of the three represents big-ass planetary energy individually. Collectively, they challenge us to either sink or swim in a pool of fluctuating emotions and intense sensitivity that for some may border on extreme. And you thought the grand water trine an easy, creative aspect pattern!
Keep in mind the power of the ocean. We can play and frolic in the shallows, loll on its surface, or drown in its depths.
If you're going for the frolick or loll option, but sense you're in danger of sinking, check in with that Mercury- N. Node- Saturn YOD bi-secting the grand water trine. Are you:
communicating clearly, keeping the big picture in mind;

leading with humility, mindful that you're not the only star in the sky;

being accountable and taking responsibility for your actions?
That's the way to go with the flow this weekend.  Let me know how your swimming lessons are coming along!